"Once you have traveled, the voyage never ends. The mind can never break off from the journey." – Pat Conroy
One day, Elaine called me when she saw a great deal for Dubai and Abu Dhabi from Gate 1, a travel agency we have used in the past. Gate 1 was offering an 8 Day Classic Dubai & Abu Dhabi trip, which included international airfare, hotels, transfers, some meals, and some tours. When we booked our vacation, we added two days to our itinerary. Elaine had a direct flight from Florida, and I had a direct flight from Boston. We paid around $1,800 each for this amazing package deal.
On Thursday, we met our Gate 1 group to go on a Dubai city tour, which was part of our package. Our English-speaking guide met us in the lobby, and we piled onto a bus. Our first stop was the Burj Al Arab, which Elaine and I had seen when we dined at Pierchic.
Next up was a drive to the famous, man-made island, Jumeirah Palm. We headed to The Pointe, where we viewed Atlantis on the other side of the ocean. Elaine had researched spending a beach day at Atlantis, but this appeared to be nearly impossible if you are not a hotel guest. We were happy we spent our first day at the wild and untamed Kite Beach instead of the calm waters of Atlantis. We then jumped on the Palm Monorail and rode through the palm, where we took in the views of expensive villas and luxury resorts.
As oil has been a main source of wealth for the UAE, Sheikh Hamdan Bin Mohammed Bin Rashid Al Maktoum wanted to boost tourism with Palm Island Jumeirah. Dubai has a beautiful ocean, and creating artificial islands would expand oceanfront, where luxury properties, hotels, and villas could be built. The project was launched in 2001 and designed by Nakheel.
Creating Palm Jumeirah was expensive and challenging. Many experts were brought into Dubai to assist with the execution of the island. Although the UAE has lots of sand in their deserts, it was the wrong kind of sand. Workers had to collect sand from the ocean and use machines to prepare the sand for building. The island is constantly monitored to keep it stable. The biggest challenge was the aggressive deadline. The 9/11 attacks were also a setback for Dubai, as they haulted tourism in the Middle East. The people of Dubai saw this senseless act of terrorism as pure evil.
Next up? The tallest building in the world, the Burj Khalifa at the Dubai Mall. Our tour included tickets to At The Top, Level 124, 452 m. We learned this was not the highest point. To hit the second observation deck, we would need to shell out an additional $200 each. We decided to pass.
While in the States, we had explored making dinner reservations at the Burj Khalifa. However, we had limited time for dinners and chose the ocean and sunset at Pierchic instead. If given the same options, I would have made the same decision. I will always choose the ocean over skyscrapers.
Travel Tip: If you want to dine from the highest point in Dubai, consider making dinner reservations at the Burj Khalifa.
The architecture of the Burj Khalifa was pretty amazing. Seeing Dubai from the tallest building in the world was definitely a cool experience and a must-do in Dubai. Ironically, a friend had thought of me when she visited the Empire State Building with her family. Her kids wondered what the tallest building in the world was, and Google informed them it was the Burj Khalifa. She inquired if I had visited during my recent trip to Dubai. My response was, "Yes, of course."
Elaine and I were both happy we had checked the tallest building in the world, the Burj Khalifa, off our bucket list . That being said, we had each recently been to New York City. I visited the Empire State Building, and she went to the One World Trade Center. We both agreed the views of Manhattan are still unmatched.
Next up was the Dubai Museum. This was a little anticlimactic for me, as a bird pooped on me and I bolted to the bathroom to wash off the doo-doo. I know, bird poop is good luck, but it's also kind of disgusting. I was hoping to come back to the States and gain a little fortune. Since I left our group, I lost Elaine, again. Our tour guide said she was on the bus, but she wasn't. Eventually, she arrived. I sort of missed out on the artifacts of this exhibit… whoops!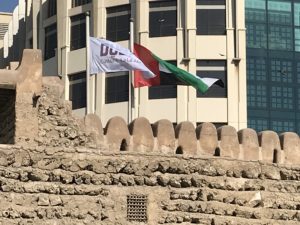 Our last stop for the day was the spice and gold souks. We journeyed to Old Dubai and took Abras, boats, to the markets. The streets were bustling with colorful spices and ornate, glorious gold.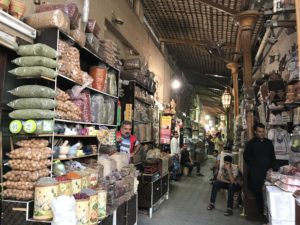 Elaine looked at the gold, thinking the prices would be a steal. They were actually more expensive than what we would pay in the States. I was looking for an abaya, which I wanted to wear in Abu Dhabi at the mosque.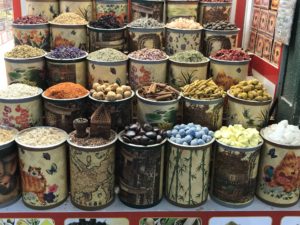 I ended up with camel milk soap and camel milk chocolate. I was starting to lose steam, and I like to look at things casually on my own. I am not good when merchants try to push me into buying and bartering before I have decided on an item. I am also not a typical female when it comes to shopping. It does not rank high on my list of fun activities, and I can only take it in small spurts. To me, shopping=boredom=tiredness.
Although I do not particularly like to shop, I do enjoy checking out the markets and the energy of the streets. I like seeing how other cultures live. I want to learn as much as I can through experience.
After a very fun-filled adventure with Gate 1, we headed back to our hotel. We had a quick orientation meeting, followed by a buffet dinner, which was included in our package.
After dinner, Elaine and I wandered the streets a bit, looking for an abaya. I was a little annoyed at myself for not paying better attention while at the market. But, I had been tapped out at the time. Plus, we hadn't explored the shops along our streets yet. We were in the more rundown part of town, and we were not sure how safe the streets would be when we first arrived. By now, we were feeling much more comfortable, and we had learned we were in one of the safest parts of the world. No one was going to bother us. We came back to our hotel empty-handed and passed out, ready for our next adventure…
More blogs from this trip:
Pictures:
Resources: