"Blessed are the curious, for they shall have adventure." – Lovelle Drachman
When Elaine and I booked our trip to the UAE, we knew one thing we wanted to do was hang out in the desert. Gate 1 offered a safari tour, but Elaine found something better through Viator. Their day trip went to the Red Sand Desert and included sand boarding. Where else would we be able to ride sleds in the sand dunes?
Travel tip: Choose a Red Sand Desert Safari as opposed to the other desert safari tours. The red sand is much more vibrant and alluring. As you drive through the UAE, you will see yellow sand everywhere. If you are like me and enjoy taking pictures, the red sand will be perfect for you.
We got off to a slow start on Friday. We walked our neighborhood streets and checked out the shopping mall. We researched some of the other places we wanted to visit. Mid-afternoon, Dream Journey Tourism picked us up. Off we went, out of the city and onto the open road.
There were other folks in our car, including a couple from Australia and a father and son. We chitchatted with our tour guide. By this point, I was feeling extremely comfortable. I asked, "What is the story behind the runaway princess?" I did not read anything in the news, but my cousin's husband mentioned this at the party I went to on Sunday. I was curious to see what reaction I would get.
Our guide politely refrained from commenting saying, "I do not discuss politics." Elaine said, "Gina, you're not supposed to ask those things. There's probably a camera and video in the car." The awkward silence indicated I made the other tourists slightly uncomfortable. Alright, so there is still lots to learn behind the glitz, abayas, and camel rides. My curiosity got the best of me, and I overstepped the boundaries. Whoops.
Our first stop was an area with little shops and buggies. Elaine and I signed up for a buggy and went riding in the sand. Elaine drove, and bumpedy, bump I went. It was a fun ride.
We checked out the camels and the little shops with vibrant, colorful, exotic garb. We bartered for white scarfs, which the merchants wrapped around our heads.
Our vehicle then joined the others in the red sand dunes, and our dune bashing began. What's dune bashing like? It's crazy! It's scarier than a roller coaster ride, with sharp drops. We witnessed other cars flip over as we journeyed through the dessert. It's like slipping and sliding in the snow down very steep cliffs. The ride is exhilarating, beautiful, and like nothing I have ever experienced before. While you are holding on for your life, you as surrounded by these beautiful piles of red sand far beyond what your eye can see. If you have never done this before, I highly recommend the experience.
Next, we stopped for a photo opp and sand boarding. Some folks stood, others sat on the boards. I had twisted my ankle the night before, so I opted for going down the sand the same way I would have sledded down a snow bank. This was a lot of fun, and we wished we had more time to engage in this activity.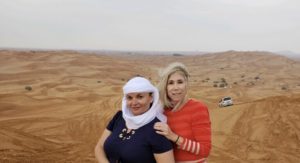 While we were riding our buggies, rain had fallen. This made the conditions a lot better for sand bashing. There were tons of wild cars flying across the desert, causing drama. We got quite the show, as we saw folks wipe out and others pull crazy stunts.
After this part of the tour concluded, we headed to one of the yellow sand deserts for our camel rides, dinner, a show, pictures with a falcon, henna, and hookahs. Due to the weather, the BBQ was canceled, and we had a Middle Eastern dinner in enclosed areas. We did not have any hookahs or get our hands painted, but we did enjoy the belly dancing, camel rides, and pictures with the falcon.
When we exited the car, we were told to bring all of our belongings. I thought this was a little strange, given Dubai was so safe. On the ride to the desert, we were told a female could wander the streets at 2:00 a.m. solo, and no one would bother her. This appeared to be true, but now we were in the outskirts. I guess the lack of undercover cops left tourist cars vulnerable to robbery in the middle of the desert. The UAE is super safe in comparison to other places I have been, but one still has to be smart when traveling.
Riding a camel was a bucket list item for me. Ironically, this desire popped up as a Facebook memory a few weeks before my trip. The camels had muzzles, as they are not very friendly. They spit on people. There are no wild camels in the UAE; all are owned.
The camels are tied together. They sit on the ground, and you hop on. Then, they push up and you feel like you are going to fly out of your seat. You have to balance your body as they stand. You go through this same process as you descend. It was definitely a cool experience and very different than riding a horse. Bucket list #437. Check.
We had an amazing day and adventure in the desert. If you have time, I highly recommend a desert safari tour, especially one in the red sand dunes. Be prepared for loads of fun and gorgeous scenery! This was one of my UAE highlights…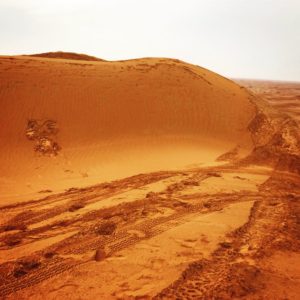 More blogs from this trip:
Pictures:
Resources: