"Travel opens your heart, broadens your mind and fills your life with stories to tell." – Paula Bendfeldt
On Saturday, we headed to Al Ain, the Garden City, with our Gate 1 group via bus. On our way there, we spied Oman, another country I had never thought of visiting. Our guide encouraged us to travel there. Google served up pretty pictures… maybe one day.
We started with a stretch in some random park, which was anticlimactic. Our itinerary stated we would visit the Hili Archaeological Park, which looks much cooler than the place we ventured off to. Had I researched our activities prior to our day trip, I would have inquired on how we ended up at an empty space instead of an archaeological site. The lesson? Do your homework, and ask questions.
Note: The place may have been closed, and our tour may have had to divert us to another spot. They may have even told us this, but I cannot remember.
Next up was the Qasr Al Muwaiji, where Sheikh Khalifa was born. We learned Sheikh Zayed bin Khalifa brought peace and prosperity to Abu Dhabi. Through skill and diplomacy, he gained authority in the Al Ain area and was referred to as 'Zayed the Great.' We wandered through this cool structure, where we were transported back in time. If you visit Al Ain on your own, entrance to this monument is free.
We continued on to the Al Ain National Museum, where Sheikh Zayed and his family once lived. Our guide pointed out some of the rooms within the fort, then we were given free time to wander around ourselves. Admission is also free here.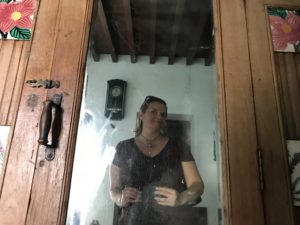 As much as I admired the structure of the fort, I was still intrigued by the culture and people of the UAE. As families toured the palace, I watched their mannerisms. Did males and females walk side-by-side? What did their body language say? Were entire families dressed in black and white robes, or would my eyes only be greeted by a sea of white? Behind my sunglasses, my curious eyes followed my unsuspecting subjects. I was filled with a hunger for knowledge and understanding. I wanted to know all I could about this foreign land and its people.
When the time came to move on, I hesitated at the door. There was a small group of guards with gigantic guns strapped over their shoulders, drinking Arabic coffee. They saw I was in deep thought, and they speculated I may want some coffee. They graciously offered me a drink. I politely declined. The thoughts running through my head were, 'This scene would make a really cool picture. Do I dare try to innocently snap a photo? Do I politely ask them to pose?' I knew my thoughts were completely out of line, and now the gig was up. At this point, that picture was not going to happen. Onward to the bus I ventured, ready for our next stop.
Next up was an oasis, which I had always perceived to be a spot of water in an expansive desert. The oasis we went to was not surrounded by sand as far as the eyes could see. Rather, there were shops right across the street. Another myth busted along my travels.
What we did find was a bunch of lush palm trees, a man who could climb trees, and an offering of dates, a popular sweet treat in Dubai.
Last up in Al Ain was the camel market. I love animals, and I read about this online. We learned there are no wild camels in the UAE; all are owned. I was curious to see what the market was all about.
When we arrived, our guide instructed us not to talk to any of the men working at the market. He said they were foreigners, and they may treat us inappropriately. They could make derogatory remarks or try to kiss us. Considering how safe Dubai had been, this was a little bit of a shock.
We were also advised camels are unfriendly. They do not like people, and they tend to spit. We were cautioned not to get too close to their cages.
When we made our way over to see the camels, they all turned their backs to us. We were greeted by a bunch of camel booties. The few that did gaze our way looked like they were getting ready to spit.
Despite the cautions we were given, seeing the camel market was a definitely a cool experience and the highlight of my day in Al Ain.
More blogs from this trip:
Pictures:
Resources: